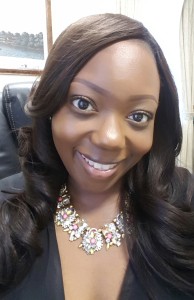 ­
Tori S. Dixon is the founder of Women in Funeral Service.  She completed a Bachelor of Science degree from the University of Oklahoma. It was there that she heard the call from the Lord to become a Funeral Director. Upon graduation, Tori relocated to Atlanta, Georgia where she attended Gupton-Jones College of Funeral Service; earning an Associate of Science degree in Mortuary Science. In 2004, Tori graduated from Gupton-Jones as Valedictorian of her class, recipient of the Bill Pierce High Distinction Award, member of the Pi Sigma Eta Academic Fraternity, received the Mu Sigma Alpha Award for academic proficiency and was the single recipient of the 9th District of the Georgia Funeral Service Practitioners Association Scholarship Award.
After graduating from Gupton-Jones, Tori began her career as an apprentice at Grissom-Eastlake Funeral Home in Atlanta, Georgia. There, she completed her apprenticeship requirements and subsequently obtained her Georgia Funeral Director and Embalmers licenses in 2006. For the next nine years, Tori worked in various aspects of funeral service–from independent Preneed Funeral Director and consultant for several independently owned funeral homes in the metro Atlanta area to the Funeral Director in Full and Continuous Charge and Operations Manager for two independently owned and operated funeral homes.
In 2008, Tori recognized an underserviced need in funeral service in the areas of grief counseling for families and a lack of resources for employee self-care. In an attempt to meet the demand for those needs, Tori enrolled in the Masters in Mental Health program at Walden University. She completed the program Summa Cum Laude with a 4.0 GPA in February, 2011.
In addition to holding a dual licensure in the state of Georgia, Tori is also a Funeral Service Licensee (Funeral Director/Embalmer) in the state of North Carolina. She currently services as an Advanced Planning Funeral Director.
Without having any prior experience in funeral service, Tori has taken her passion for helping others and her devotion to the call of service and utilized them as the foundation upon which she has been serving families over the last ten years.
Women in Funeral Service is an extension of Tori's love for funeral service and her desire to provide mentorship for women in the funeral service industry. It gives her the opportunity to use her knowledge and experience as tools for building trailblazing, trendsetting women who will undoubtedly change the face of funeral service. Tori accredits much of her success as a Funeral Director to the countless number of women who mentored and paved the way for her.  Women in Funeral Service is a way to pay homage to those women and to invest in the lives of other women on the journey.
To contact Tori for speaking engagements, please email her at info@womeninfuneralservice.com.